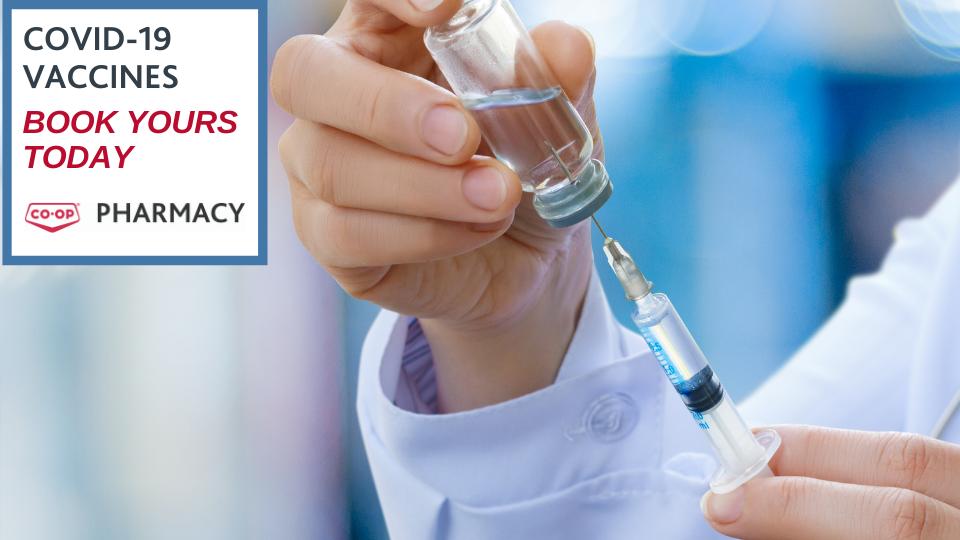 COVID-19 VACCINATIONS
April 6, 2021
Your Central Alberta Co-op Pharmacies will be offering COVID-19 Vaccines in Phase 2 of Alberta's Vaccine Program. Please phone the location to determine which vaccines are available to be administered at that location.
Please call to book your appointments over the phone. Walk-in appointments will not be accepted at this time.
IMPORTANT INFORMATION BEFORE YOUR FIRST DOSE
The COVID-19 vaccine cannot be administered within 14 days of any other vaccination. Please note, other vaccines cannot be administered between your first and second dose. You must wait 28 days or more to receive any other vaccine after your second COVID-19 dose.
In order to receive the COVID-19 vaccination, you must be asymptomatic and not had a positive COVID-19 test result in the last 14 days.
The COVID-19 vaccination is a two dose vaccine that is 95% effective in preventing COVID-19 when the second dose is administered within the recommended interval. Both first and second dose appointments will be scheduled at your initial booking.
Due to the limited availability of daily doses, you must contact the pharmacy immediately if you cannot make your scheduled appointment.
WHAT TO EXPECT AT YOUR APPOINTMENT?

Review what to expect when getting your COVID-19 vaccination:
Before your appointment:

Please self-screen for COVID-19 symptoms.
Provide your Pharmacy team with your phone number to ensure they can contact you if they are running behind schedule.
At the Pharmacy:

Wear a mask or face covering.
Wear loose clothing with short sleeves.
Please arrive on time rather than early.
Limit the number of people attending with you.
After your injection, please find a safe waiting area. Patients must remain in the store for 15 minutes post-injection to monitor for allergic reactions.
Review post immunization after care guidance instructions: Individuals who receive COVID-19 vaccination may experience side effects. These reactions are most often mild, develop within 24 hours and could last 24-48 hours.
SIDE EFFECTS MAY INCLUDE:

Redness, swelling, or feeling sore where you had the needle
Feeling tired
Headache
Fever or chills
Body aches or sore joints
Feeling sick to your stomach (nausea), vomiting (throwing up), or loose stool (diarrhea)
Swollen lymph nodes
Call Health Link at 811 to report any serious or unusual side effects. For further information about the COVID-19 vaccines, visit Alberta Health.
WHAT COVID-19 SAFETY PROTOCOLS ARE IN PLACE?
Patients will be asked to sanitize their hands with an alcohol based rub prior to receiving their vaccine.
Cleaning and disinfection of the immunization area (e.g., chairs, table, door handles) after each patient immunization. NOTE: Households can be immunized together.
Injecting pharmacists will don protective PPE which includes masks, face shields and gloves.
Routine environmental cleaning, especially in frequently visited areas (e.g., waiting area door handles, washrooms) and on high-touch surfaces at least twice a day.