Learn More About Central Alberta Co-op
Actions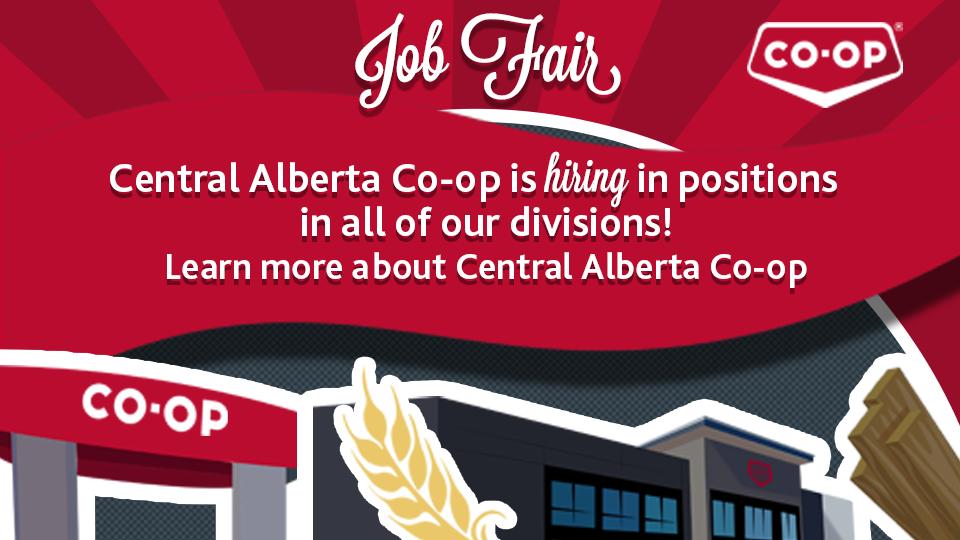 Learn More About Central Alberta Co-op
November 1, 2022
Job Fair and Information About Central Alberta Co-op
Central Alberta Co-op is having a job fair on December 2, 2022 from 10:00 AM to 6:00 PM at our Central Alberta Co-op Food Store in Innisfail (4303 — 50 Street, Innisfail, AB). We are hiring for all of the divisions for our Innisfail and Spruce View locations.
Please come prepared with your resume and be ready for onsite interviews.
Learn more about our divisions:
Agro Centres
From day-to-day tasks to major farm jobs, your Central Alberta Co-op provides you with a variety of products and services.
What do we do? We deal with things, such as farm supplies, crop supplies, custom application services, animal feed & supplies, bins & farm equipment, and agronomy services.
Food Stores
We are pleased to offer our customers fresh quality produce from professional, knowledgeable and friendly staff.
Our professional meat cutters are available to provide a wide range of products - from thick, tender steaks to succulent chops.
The deli has a wide variety of brand name products, as well as products made in-store.
We offer freshly baked breads, buns, pastries, muffins, cookies and cakes - and more!
Gas Bars/Convenience Stores
Whether you are looking for full or self-serve, your Central Alberta Co-op offers high-performance fuels at competitive pricing. You will find excellent customer service, a friendly team and top tier fuels.
Home & Farm Centres
From small renovations to major construction, your Central Alberta Co-op Farm & Home Centres have what you need to complete your project and stay on budget. We offer products and solutions for all of your household needs. Whether it's finishing touches or major projects, we've got you covered!
What do we do? We deal with things, such as flooring, kitchen & painting supplies, gardening solutions, lumber, outdoor project guides, home and cottage plans, farm building plans, farm supplies, animal health, and feed
Benefits of Becoming a Team Member with Central Alberta Co-op
Co-op values all employees and offers a compensation package incorporating a competitive salary, comprehensive benefits and recognition programs for service. We offer both full-time and part-time positions that can take advantage of:
Flexible hours schedules to accommodate personal needs
Competitive wages
Time-off benefits, including paid vacation and sick days
Comprehensive benefits package including dental plan, extended health care, group life insurance and long-term disability insurance
Pension plan with matching employer contribution
Education assistance and scholarship programs
Employee and Family Assistance Program
**Benefits vary depending on employment status.
Co-op invests in its team members and supports their professional growth, development and success. Team members are able to advance to positions of greater responsibility with experience as well as internal and external training opportunities.
Training seminars and programs are available to team members at all levels. Specific internal training programs include:
Student programs: Provides summer employment or co-operative education placements to students in diploma or degree programs to support their career development and prepare them for future opportunities within the CRS system.
Management programs: Provides mentorship opportunities, training seminars and hands-on experience to manage the operations for a department or the entire co-operative association.
To help reach their career and educational goals, team members may qualify to have 75 per cent of their tuition reimbursed upon successful completion of an approved program.
There are opportunities to advance at your Central Alberta Co-op and other Co-op locations of the entire Co-operative Retailing System across Western Canada. There are also career possibilities at Federated Co-operatives Limited, the co-operatively owned wholesaler and manufacturer for all local Co-ops. Learn more about Co-op.