KEEPING YOUR RIDE CLEAN RIGHT AT YOUR FINGERTIPS!
Actions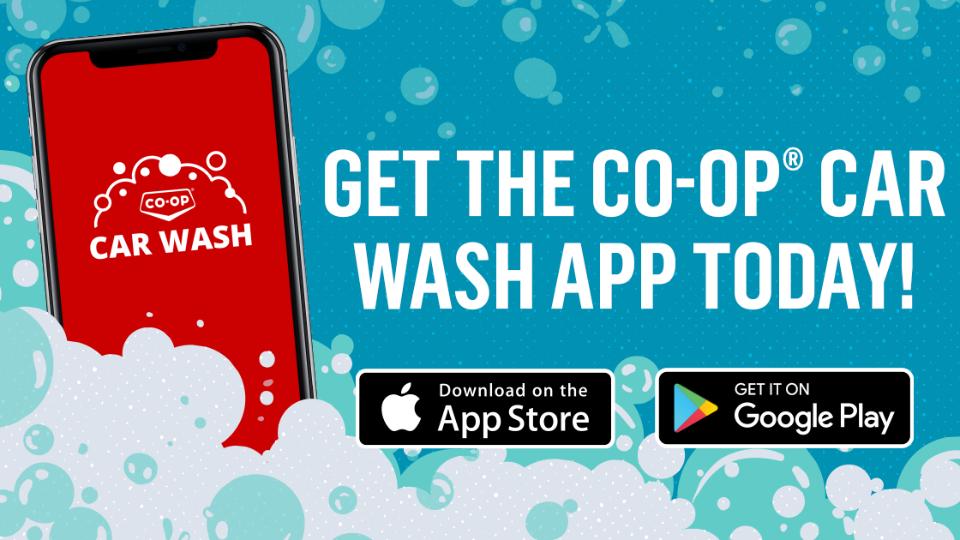 KEEPING YOUR RIDE CLEAN RIGHT AT YOUR FINGERTIPS!
August 11, 2021
Keeping your ride clean just became a lot easier! Download the Co-op Car Wash App!

Earn loyalty rewards just for washing your car , then use them to get free washes at Central Alberta Co-op!
The new Co-op car wash app is available now and FREE to download for Apple and Android users. Picture this; you're driving past our gas bars and realize your vehicle could use a wash. No more getting out and going inside to get a code, just tap the app and buy a wash! It's convenient, it's contactless and you never have to leave your vehicle.
You can buy single washes and earn loyalty rewards or even buy a one-month subscription at a discounted price. It easy to track your points in the app and it's never been easier to keep your vehicle looking great.
Once you have the app, you can share it with friends and family and earn even MORE loyalty rewards! Click the My Profile tab and simply share the app via e-mail, text or social media.
Download the Central Alberta Co-op car wash app today on the App Store or Google Play.
Contact us if you have feedback or issues with the app!
YOUR CENTRAL ALBERTA CO-OP CAR WASH LOCATIONS
Innisfail 4303-50 Street, Innisfail
Lacombe 5850 Hwy. 2A, Lacombe
South Gaetz 120, 3115-50 Avenue, Red Deer
Stettler 4821-62 Street, Stettler
Taylor #700, 6730 Taylor Drive, Red Deer
Timberlands #6101, 499 Timberlands Drive, Red Deer
Discover more: