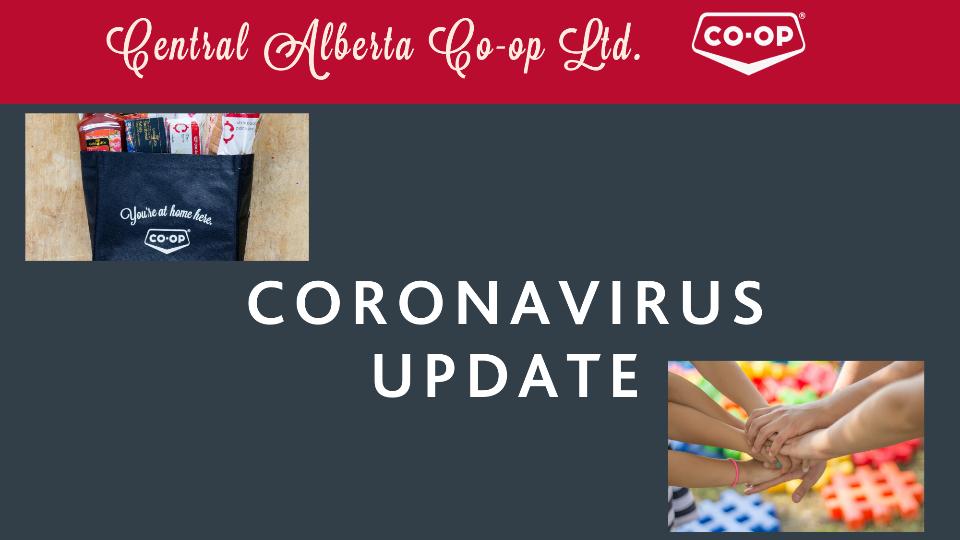 CORONAVIRUS UPDATE
March 19, 2020
The COVID-19 pandemic is a global challenge that's having a real impact on our community. At Central Alberta Co-op, we understand the vital role we play in the community and aim to serve you with the items you need, when you need them. We are also saddened by the news of all those who have been affected and we want to be diligent about doing our part to prevent more impacts.
"Our response to this pandemic not only considers the health and well-being of our Co-op members and customers, but also our Team Members," said Marno Hultin, Board President
Our food stores and pharmacies are critically important at this time, and we're doing everything we can to ensure they stay open and accessible, while also protecting against the spread of COVID-19.
We are closely monitoring the impact of the coronavirus and our actions are guided by the World Health Organization, Public Health Agency of Canada and Alberta Health Services. To maintain a safe environment and serve our members and customers, we've implemented the following actions:
- All your Central Alberta Co-op locations are cleaned and sanitized daily as part of normal business, but all locations are increasing the frequency of cleaning, especially on high-touch surfaces
- We are working with our team members to ensure that they have current information on prevention so they can stay healthy or stay home if they are feeling ill.
- We have implemented an early morning shop for seniors, those with auto-immune diseases, those that are high risk as well as those with mobility limitations. This hour of shopping is available at our Innisfail, Lacombe, Red Deer's Deer Park & Timberlands; Monday, Wednesday & Friday 7am-8am.
- We have temporarily discontinued all food sampling programs in food, c-store and liquor locations.
- All self-serve items from food, c-store & liquor locations have been temporarily discontinued.
- Due to the high demand for some products, we have placed limits on the quantities available to purchase.
- We will ensure that our prices on essential items remain stable throughout this challenging time.
- Signage and visual cues are being installed in our locations to remind guests of proper social distancing.
- Plexi Glass barriers will be installed at our food, c-store/gas bar and liquor locations. Gloves and hand sanitizer are provided to all team members.
- Our pharmacies are ensuring continued drug supply by filling a maximum one-month supply of all medications.
- Our food, pharmacy, gas bar and liquor locations have temporarily adjusted their hours of operation. Our Farm & Home Centres in Eckville, Innisfail, Red Deer & Spruce View will remain open with their regular hours of operation.
- Our administration office and agro service locations are closed to the public. All team members can be reached by phone or by e-mail.
How you can help
- Please remember to practice social distancing at all our locations.
- If you are ill, have travelled international in the past 14 days or have been in contact with someone who has contracted COVID-19, please do not visit our locations.
- Please do not shop in groups if possible.
- Please keep your reusable bags at home and utilize our plastic grocery bags. We are temporarily waiving the charge of these bags and they can be returned for recycling on your next visit.
- We encourage the use of credit or debit card rather than cash as a form of payment.
- Please be patient and kind to our team. They are going above and beyond.
Thank you to our team!
We remain committed to taking care of our team and work to provide them with the information needed to keep themselves and their families safe.
"Our organization wouldn't be what it is without the team members we have on the front-line replenishing shelves, helping customers and providing that friendly face our customers have come to know," Hultin said. "On behalf of the Board and management, I cannot express my gratitude to them enough. Thank you. Thank you for your dedication, your positivity and your service through the thick of it all."
We will keep you updated on any news or information as it arises.
Thank you to everyone for the kind words to our team members and for being considerate to each other in our locations. It is a true testament to the awesome teams, members, customers and communities we surround ourselves with.
UPDATES
We have established a Pandemic Team that meets daily to review the status of COVID-19, the precautions being taken at our locations to keep our guests and team members healthy & safe and how we can continue to mitigate the spread of COVID-19. Should we be faced with one of our teams members or guests contracting the virus, we have a Confirmed Case Toolkit in place. This toolkit includes step by step procedures to ensure that we are limiting the exposure to other team members and guests.

Plexiglass shields have been installed in all of our food, liquor and gas bar locations. These shields will be installed at our Farm & Home Centres in the near future.
Security guards are in place at our food locations to ensure that shopping carts are sanitized.
Many of our locations have seen adjusted hours, please see below for most current changes.
In order to ensure proper social distancing, we are limiting the number of customers in our locations at any one time. Thank you for your co-operation with this change.