BOARD OF DIRECTORS' CALL FOR NOMINATIONS 2023
Actions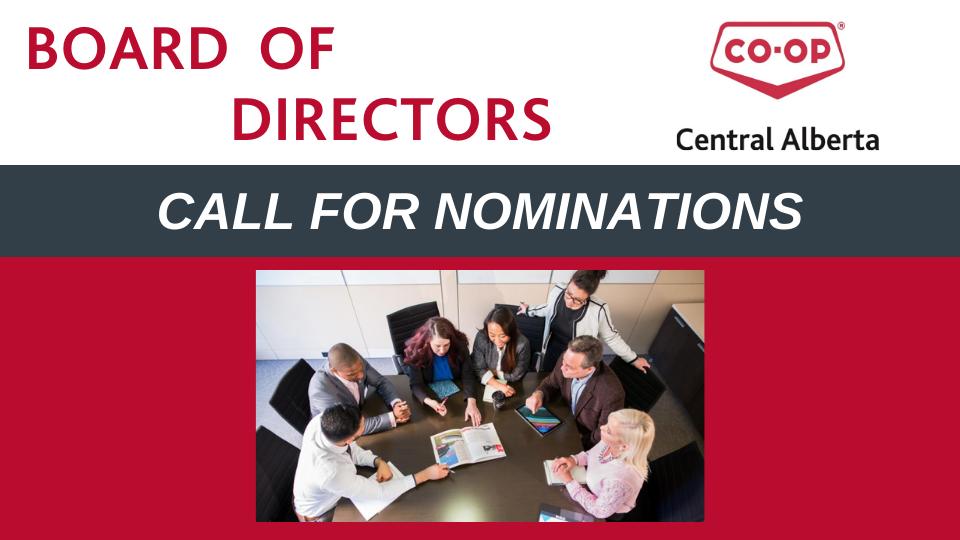 BOARD OF DIRECTORS' CALL FOR NOMINATIONS 2023
March 1, 2023
Central Alberta Co-op is currently accepting nominations for the Board of Directors.
Are you interested in or know someone who would love to be part of a dynamic and exciting business in the area? Would you or someone you know be interested in creating and supporting the vision of Central Alberta Co-op and supporting community relations and communications with our members? If so, being a director would be a perfect fit.
Nomination packages can be requested by contacting nominations@centralab.coop or calling 403-309-8913. Nominations must be received at the Corporate Office, 6201-46 Avenue, Red Deer; no later than 12:00 PM, March 31, 2023.

Electronic voting and registration for the AGM will be open April 24th — May 12th and the election results will be announced at the virtual Annual General Meeting on May 17th.
Please find a copy of our bylaws below. For more information on Co-operatives in Alberta, please refer to Alberta Co-operatives Act.